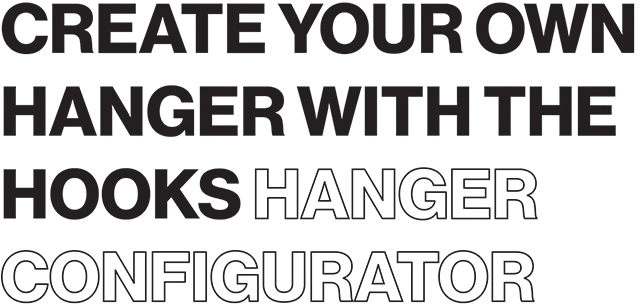 With an emphatic focus on sustainability, we create premium hangers, bags, signage, and point-of-sale collections that complete a brand's retail experience. Our team of industry specialists act as an extension of your team, translating creative visions and needs into quality, customized products. We are your one-stop shop to set up your store for success.
Hangers
Blend in or stand out, customize your hangers to the last detail, whatever your goal is.
Point of sale
Display your items with style, give them an extra push and take your retail space to the next level.
Signage
A good first impression goes a long way. Use attractive signage to give your customers a great one.
Bags
An attractive shopping bag is the best offline promotional tool there is. Get them at Hooks.
We want to be part of the solution to a better future. That's why we work with a main focus on material development and research, to come up with ways to make the fashion and retail industry more sustainable.

Circularity
We're on a mission to circularity. Join us by turning your fashion waste -like old shoes and clothes- into valuable material for your store, using no new fossil fuels. WEAR, GRIND, REUSE, AND REPEAT.

Bio Materials
With products made from natural origin, we battle the waste and reduce energy use. From coffee grounds to corn starch, our bio-materials offer CO2 neutral solutions for various retail uses.

FSC Wood
FSC wood is harvested from forests that are responsibly managed, socially beneficial, environmentally conscious, and economically viable. This way, we take responsibility for the future of the fashion industry.

Recycled
Making every single element count for a lifetime, our innovative ways of upcycling and reusing materials make sure that our sustainable products are exactly that: sustainable. Responsibly made and responsibly re-used. Time and time again.